Description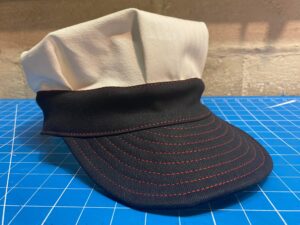 In partnership with LaRose Hat Company, we will have a very limited run of LNE Employee Tribute Caps. These caps are the same design worn by many LNE crewmen. The railroaders' wore an all-white version, while our tribute cap features a black bill and trim with read threading – black, white and red… the classic LNE colors.
Run is limited to 25 custom, handmade to your hat size. A limited number of 7 3/8 size prototypes are available now.
Hats are $79.99.
They will ship in early 2024.    7 3/8 hat size orders may ship sooner.
Orders are due by December 10. 2023.
You will be contacted via email to submit your hat size.
Eighty bucks for a hat? Why?  For starters they are hand-made not just in the USA, but in nearby Berks County, Pennsylvania by the well-respected LaRose Hat Company. They are also fundraisers, so there has to be enough room in the price to cover costs and direct money to LNE #611.
And, by the way, they are beautiful. Literally stunning.
If you are like our marketing guy whose head would sweat under a frozen bandanna, they are incredibly durable but light enough that you can wear them in all seasons… even in the heat of the sun while working on a 1948 Alco locomotive.