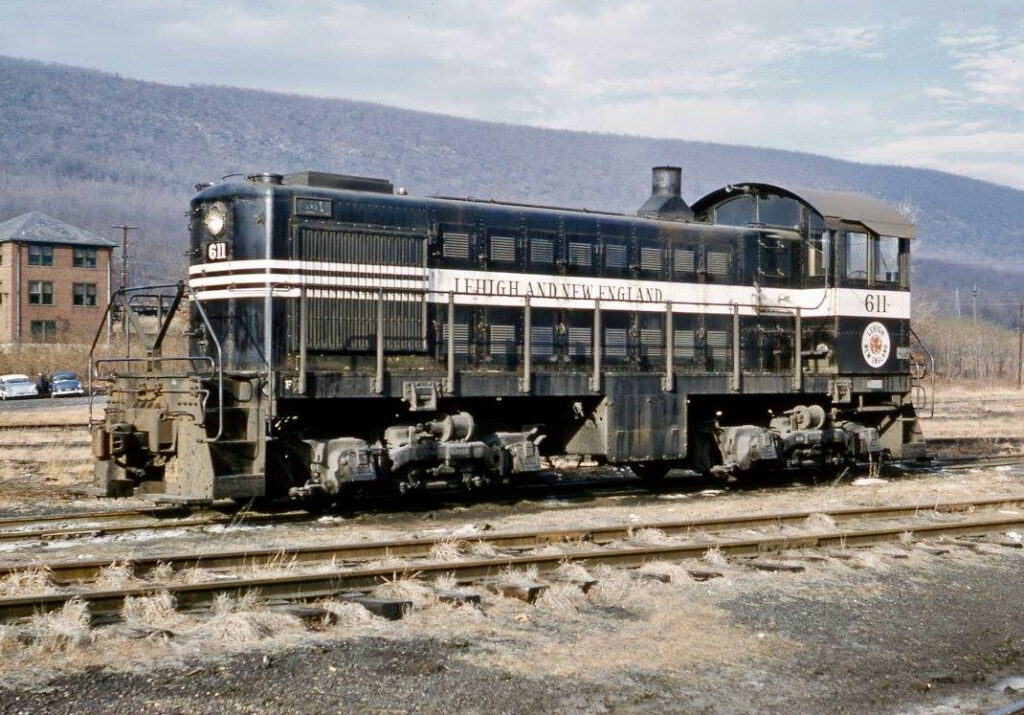 The non-profit Railroad & Industrial Preservation Society, Inc (RIPS) has embarked upon the restoration of Lehigh & New England Railroad #611 – one of America's most historic diesel locomotives. The 73 year-old locomotive will be restored to operating condition.
#611 is the last surviving intact diesel electric locomotive from the Lehigh & New England Railroad, which served the coal, slate and cement regions of eastern Pennsylvania along with northwestern New Jersey and southern New York.
RIPS completed the acquisition on October 31st, the 60th anniversary of the abandonment of the LNE.
RIPS President David A. Organek notes that, "LNE #611 represents the highpoint of American railroading right after World War II. The locomotive was built to haul the coal and minerals needed for the post-war boom. Later, it served at Ford Motor Company's River Rouge steel mill moving materials required for automobile manufacturing. #611 ended its working days loading grain at an Indiana elevator. Coal, grain and autos… it doesn't get more quintessentially American than that. We are proud to be able to help future generations see, hear and ride behind such an historic artifact."
"The previous efforts of the Lehigh New England Preservation Society and the Lehigh Valley Chapter of the National Railway Historical Society to rescue #611 made her future preservation possible," according to RIPS Marketing Lead Robert John Davis. "We are grateful for all the work that has already been done to save #611 and are honored to be the next stewards of this historic locomotive."
Rich Zmijewski, RIPS Finance & Business Lead, has announced a fundraising campaign to provide the necessary funds to restore and care for the locomotive. RIPS is seeking to raise $150,000 to return the locomotive to service and provide for proper stewardship once it is operable. The organization expects to complete the restoration within 36 months.
Donations and grants are actively being sought. RIPS is a registered 501c3 non-profit organization.
Donations via check may be sent to:
LNE #611 FUND PO Box 636 Souderton, PA 18964
Online donations maybe made via PayPal by clicking here.
Inquiries on donations of materials and volunteer opportunities may be sent via our contact form.
About #611
Lehigh & New England #611 is S2 diesel switcher built in 1948 by the American Locomotive Company (ALCO) of Schenectady, NY. One of 1,502 S2-type diesel electric switcher locomotives constructed by ALCO between 1940-50, #611 is a significant survivor. While most S2s have been turned to scrap, #611 stands to become an operating artifact from the post-WWII era.
#611 was built for the anthracite coal, cement and slate hauling Lehigh & New England Railway which connected Maybrook, NY with Allentown and Tamaqua, PA until its abandonment in 1961. Most of #611's first 12 years on the LNE were spent within 30 miles of the locomotive's current home in Kutztown, PA. #611 was sold to the Ford Motor Company where it worked at the world-famous River Rouge steel mill. The locomotive finished its regular service years at a grain mill in Emporia, Indiana. The Lehigh New England Preservation Society and the Lehigh Valley Chapter of the National Railway Historical Society brought #611 back to Pennsylvania in 2016.